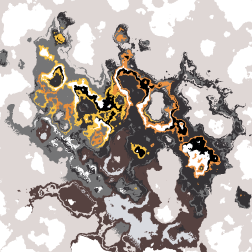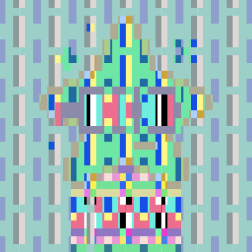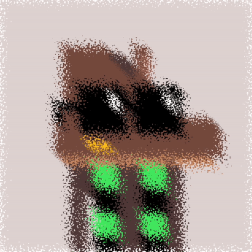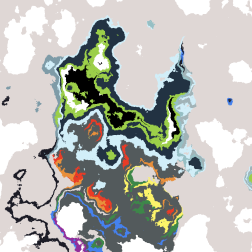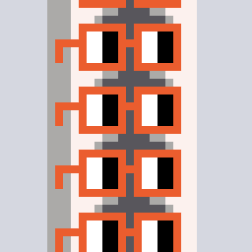 behold - an infinite derivative work of art
Every day, at the very moment that a new noun is born – its 1/1 alt noun can be claimed.
Each Alt Noun is created by communicating with the Nouns contract, asking it for a Noun and altering it, fully on-chain. Some alts are static, some are infinitely animated. Some provide identity, and others are abstract art pieces. but Each one is unique – to the noun its based on, the person who mints it and blockchain's hash.
Ummm... WTF?
Alt Nouns are a grand and infinite experiment within a much grander experiment – in on-chain art, blockchain interoperation, public domain possibilities, derived value, sub-communities, noun proliferation, distribution mechanics and much more. Each Alt Noun represents deeper questions about art, and digital provenance and seeks to push the boundaries for Nouns and the nouneverse.

Since Nouns are vastly out of reach for most people now, and possibly even more so in the future – Alt Nouns also allows for people to participate in the historical significance of Nouns – in a completely autonomous and true to the original Nouns' on-chain ethos. Each one is based on the very Noun they're created from, in the truest sense of the word.

It's the first fully on-chain contract interoperative derivative of Nouns that directly interacts with the Nouns contract to create 1/1 art from this conversation. Every day, created & stored on-chain, forever.

No ipfs/arweave, no rendering scripts. Just 2 smart contracts, forever talking to each other – siblings on the blockchain; creating art together.
1 noun = 1 alt noun
alt nouns are derivatives of nouns
first fully on-chain interoperative project
runs till the end of time
when a noun is born, its alt can automatically be minted, forever
no alt scarcity – 19 possible alterations, each equally likely
alt nouns are hard coded to the nouns contract
created & stored on-chain (not IPFS)
every 10th alt noun is reserved for Nouns DAO members, in perpetuity
2 max per wallet, locked (to allow everyone a chance to get one)
0.15ETH per Alt Noun
dynamic price, deflation, charity, burning, community treasury and much more
Nouns is, in our opinion, the grandest experiment in not just NFTs, but also in DAOs – the impact of which will be felt for years to come, possibly decades. Each day, a Noun is generated based on a completely random set of possible parts, and is auctioned off to the highest bidder with all proceeds going into the NounsDAO – an action that happens trustlessly & automatically everyday.
Nouns' mission is to (attempt to) bootstrap identity, community, governance and a treasury that can be used by the community. 1 Noun = 1 vote in proposals for the use of this treasury. And over the first ~3 months of its existence, the Nouns auctions have raised over 14000 eth (roughly $60 million) through ~100 Noun auctions. And they've already been using this for good, including grants for artists, charitable donations etc. The founding team of 10 Nounders includes CrypToadz artist Gremplin & Loot Project's Dom.
Much smarter people than us worked on Nouns to make it what it is. Alt Nouns are a bit simpler in their mission – we want to use a historically significant project like Nouns, and make weird historically significant on-chain art using these Nouns – forever.
Alt Nouns are the first fully on-chain art derivative that is hardcoded to be directly mapped to Nouns. A derivative in the truest sense, conforming to our (& Nouns') on-chain ethos.

The Alt Nouns contract checks whether the supplied Nouns' tokenID exists, and if it does – the Noun's tokenURI is fetched, decoded & altered via creative and generative SVG manipulation and the resulting Alt Noun and its metadata is stored as an ERC721 token (i.e. NFT) directly on the blockchain. All of this processing happens in the Alt Nouns smart contract, interacting with another smart contract, with no third party intervention or manual action.

Since the Alt Nouns are permanently mapped to the Nouns contract, there can only be as many Alt Nouns as there are Nouns. And if for some reason, there are no longer new Nouns – Alt Nouns will also cease to exist.
Each Alt Noun can be born with 1 of 19 possible alterations, decided at the time of minting. It is not truly random, and can be predicted based on the blockhash. Alterations make use of (frankly, underutilized) SVG filters in various combinations, some of which have other sub-traits that add an element of pseudo-randomness to these alterations of the Nouns artwork. All this ensures is that no matter which Alt Noun you get, they are all 1/1 unique pieces.
All alterations are equal, but some are more equal than others:
Fractionalized
Collapsing
Spirit
& many more...
There is no predefined rarity, since every alteration is equally likely – but it'll take months/years/decades for this to be defined – One Alt Noun at a time. Since this is an ongoing experiment, how each alteration is valued will develop over this time period, so we'll all find out how much something is 'worth', together.
Some alterations, however, are very special – infinite & dynamic in more ways than one 👀
Theoretically, infinite – or till the end of the blockchain. However, each day, just 1 Noun trustlessly goes up for auction & each Noun can only ever have 1 Alt Noun. At the end of one year – there'll be only 365 Alt Nouns.
As a result of this distribution mechanic, which Alt Noun is contractually obligated to adhere to – It'll take a little over 27 years for the 10,000th Alt Noun to be born.
As a parallel to every 10th Noun being reserved for Nounders (i.e. group of ten builders that initiated Nouns), every 10th Alt Noun is also reserved – but for people who are part of the Nouns DAO (i.e. Noun Holders). Because every Alt Noun is available on a first come first serve basis, these reserved Alt Nouns are a token of appreciation for the community that made, and continues to make, Nouns what they are.
Every 10th Alt Noun is reserved for any Noun holder, in perpetuity.
A portion of the primary and secondary sales for Alt Nouns will be going into the Alt Nouns treasury. The goals for this treasury are being planned by the OCC community on our discord right now – come join us! It'll be used for proliferation of Nouns, of on-chain art and more.
Details TBD
So, what was The Plan™️?
or, how we created & dropped 80+ Alt Nouns with no gas wars, ~0 failed transactions, and no pre-sale allow list. Read on: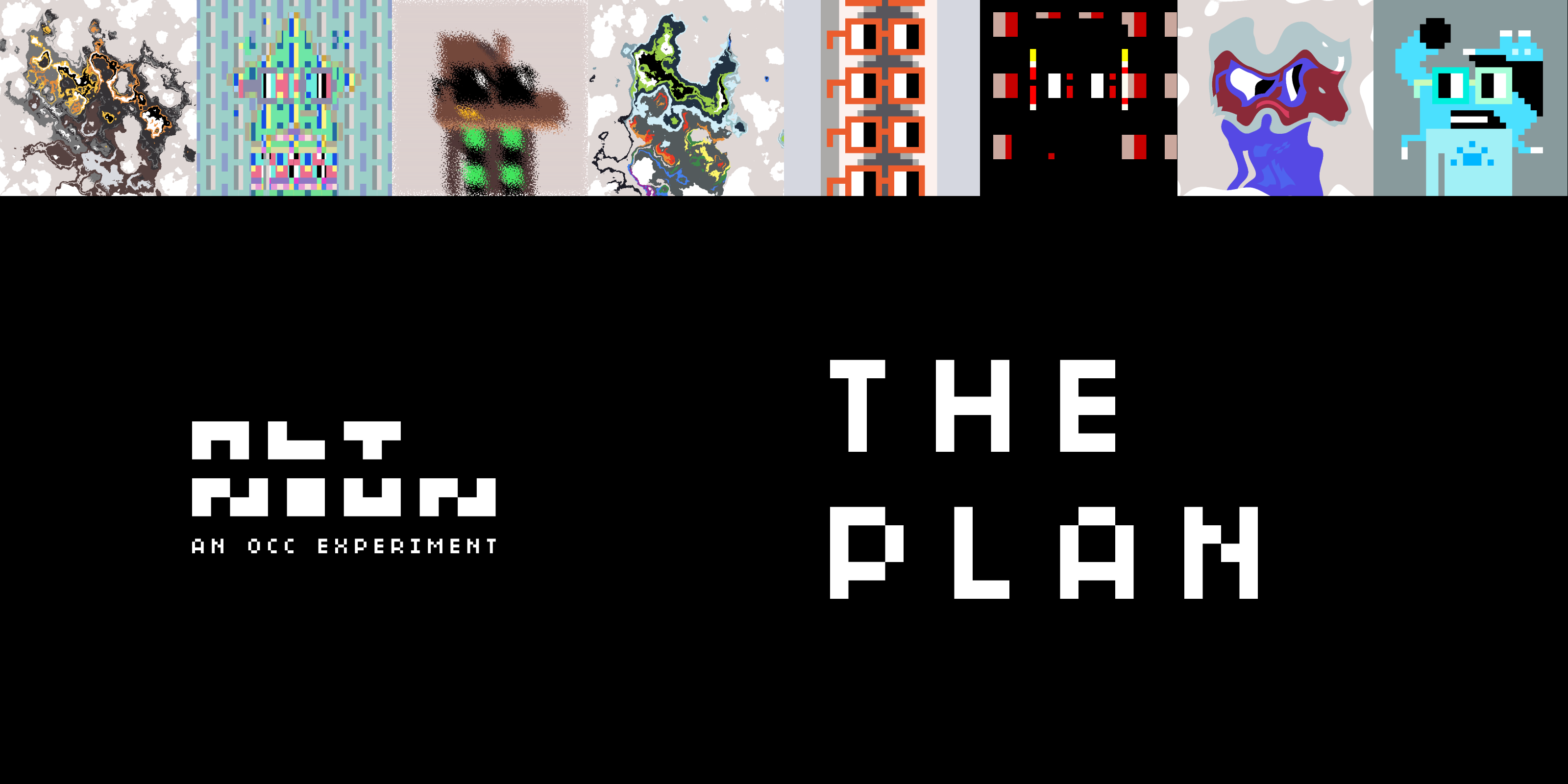 The Plan™️ on mirror.xyz/onchainco.eth
OCC is more than a run-of-the-mill NFT art project. Our goal is to channel our love for art and technology, collaborate with other digital & traditional artists, and use completely on-chain tech to make beautiful NFT collectibles that, hopefully, make you happy 🌻 Every NFT mint we do is 100% generated on-chain in the smart contract and lives on as an immutable ERC-721 token on the Ethereum Blockchain forever.
Alt Nouns is our first experiment in on-chain derivative art. If you're interested, check out OCC#1 🌺 Flowers – our genesis project. OCC#1 🌺 Flowers is a collection 4096 programatically generated on-chain flowers, for you to own or to share. Each flower is 100% generated on-chain, including it's metadata. No ipfs/arweave, no external rendering script. Just SVGs created by the contract.
🌺👃🌺